MAME Arcade
This is my arcade page where I show off my MAME cabinet.
I thought I'd save myself the trouble of explaining what MAME is, since there is already a good explanation over at MameWorld.
This cabinet was actually an old poker machine before I converted it into a MAME cabinet. I like it because it's smaller than the average home-built cabinet (which are usually HUGE monsters because they fit a 27″ TV). I couldn't fit a huge cabinet in my apartment… Well, actually I can't fit this one either, but sometimes you have to prioritize…
The Mission

To transform this…                                                      Into this!
---
TODO-list
Insert two silent Noctua fans to the back of the cabinet
Tidy up among all the cables…
Create graphics for a control panel overlay
Exchange coin-lights from light bulbs to LEDs
Adding a hinge to the front of the control panel

Install a spinner

Change T-molding, ordered from T-Molding.com

Install a separate shift button/plunger

Install a 90 mm fan in the back (system runs really cool now)

Install lights for the marquee

Apply side decals and marquee

Order a marquee and some decals for the sides

Apply some extra layers of paint

Mask the bezel to fit the monitor screen

Connect the cabinets power button to ATX power-on

Install a master/slave power strip for easy power-up

Implement a nudge function for flipper games

Add flipper buttons and wire up to I-PAC

Wire coin-lights to the PC's powersupply

Wire up coin-slots to I-PAC

Add plexi glass overlay to control panel

Paint cabinet and control panel

Install speakers and sub-woofer

Build control panel and wire it to I-PAC

Fill up all holes with wood putty

Add castors to the stand

Build a new stand
Hardware
19″ TFT monitor (good size without all the depth)
Intel Core i3
4096 MB RAM
Internal Intel Graphics
TurboTwist Arcade Spinner with custom knob
I-PAC (USB-version) interfacing with the arcade controls
Stereo speakers and a sub-woofer
Software
Favorite arcade games
Here is a list of my favorite games. (updated January 24, 2010)
This list was created with my mamefavs-script.
---
I am an Asteroid.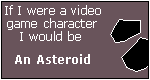 I am a drifter. I go where life leads, which makes me usually a very calm and content sort of person. That or thoroughly apathetic. Usually I keep on doing whatever I'm doing, and it takes something special to make me change my mind.
What Video Game Character Are You?